BLIND AUCTION
With excitement, this year we are hosting a blind auction to raise funds and awareness for a selection of charities.
TO BE AUCTIONED
75 lacquered cherry-wood boxes containing:
4-bottle vertical (2004-2007) of Materium Cabernet
1 limited edition bronze grape cluster, individually numbered, with winery logo, mounted in the box. Hand made by sculptor Catherine Schmid-Maybach.  90 produced, 75 available.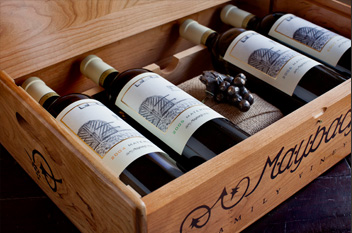 HOW IT WORKS
Send your bid privately, via email. Minimum bid $1200. List updated daily. Bidding closes Monday March 11, 6PM PST. The 75 highest bids will receive the wine boxes. Shipping included.
WINNING BIDDERS
100% of auction proceeds donated directly to charity.
Winning bidders to make payments in the form of tax-deductible donation(s) directly to one or more of the participating charitable organizations on our list (see below). Each charity will provide an acknowledgement of tax deduction.
PARTICIPATING CHARITIES
Listed as "A"-rated organizations by CharityWatch
ACTION AGAINST HUNGER

Helps malnourished children and vulnerable communities become self-sufficient, with 5,000 field staff assisting more than six million people each year.
actionagainsthunger.org